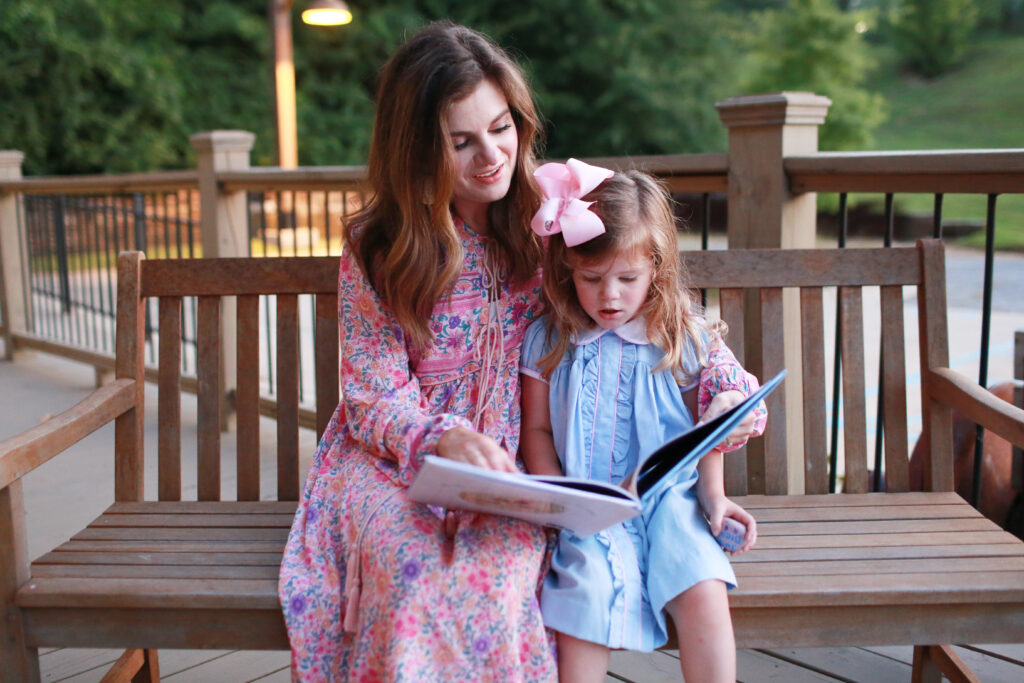 Find my dress here
I don't know how life has been for you lately, but for me, 2020 has been just a bit intense:) Here are five books that are full of fun and are sure to brighten your socially distanced day. I sure do hope they bring you just as much joy and delight as Lily is experiencing in this picture! Just click on the image to shop each book. 
What Alice Forgot - Laine Moriarty
What Alice Forgot was such a pleasant surprise for me! I expected it to be a simple and predictable story, but instead it was one of my favorite books I read in 2019. Alice is a 39 year old mother of three who completely forgets a decade of her life after experiencing a mild head injury. I found myself laughing out loud again and again at how baffled poor Alice is by the state of her life after she wakes up! This book is SO funny, but it also makes you take a good look at your life and remember to hold on tight to what's really important. I loved it, and I think you will too.
One to Watch - Kate Stayman-London
I really enjoyed One to Watch! It's about a blogger named Bea who finds herself starring as the first plus size lead in a fictional TV show that closely mimics The Bachelorette. I liked Bea and thought she had a really sweet relationship with her friends and family. I thought her reactions to the different men were pretty realistic, and I enjoyed living vicariously through her travels. If you are a fan of The Bachelor Franchise, you will enjoy this book!
To All the Boys I've Loved Before - Jennie Han
We've all watched To All the Boys I've Loved Before, but have you read the book?!? Again, this one surprised me! It is SO clever, funny, and well-written. You are going to love Lara Jean and Peter K even more in writing than you did on the screen.  Lara Jean is the very best 16-year-old, and reading about her troubles will make you feel like you were in high school just the other day:) This book is technically for teens, but is certainly one that adults will enjoy as well. I truly laughed the whole way through!
Crazy Rich Asians - Kevin Kwan
Again, many of you have probably watched Crazy Rich Asians, but have you read this book? When poor Rachel travels to Singapore with her boyfriend, she is surprised to learn he is incredibly wealthy. Her encounters with his very large and very intense family just get wilder and wilder. I really liked Rachel and Nick, and I enjoyed reading about a culture of crazy rich people that I certainly didn't know existed! I laughed the whole time I read this book.
American Royals - Katharine McGee
I loved American Royals!!! After the Revolutionary War, George Washington became king instead of president, and the fictional House of Washington has ruled American ever since. This book is about the current American royal family and contains every bit of the drama, romance, and fancy event attire that you might hope for. If you love the real royal family, you'll enjoy this book. The sequel comes out in September, and I need to get it right away!