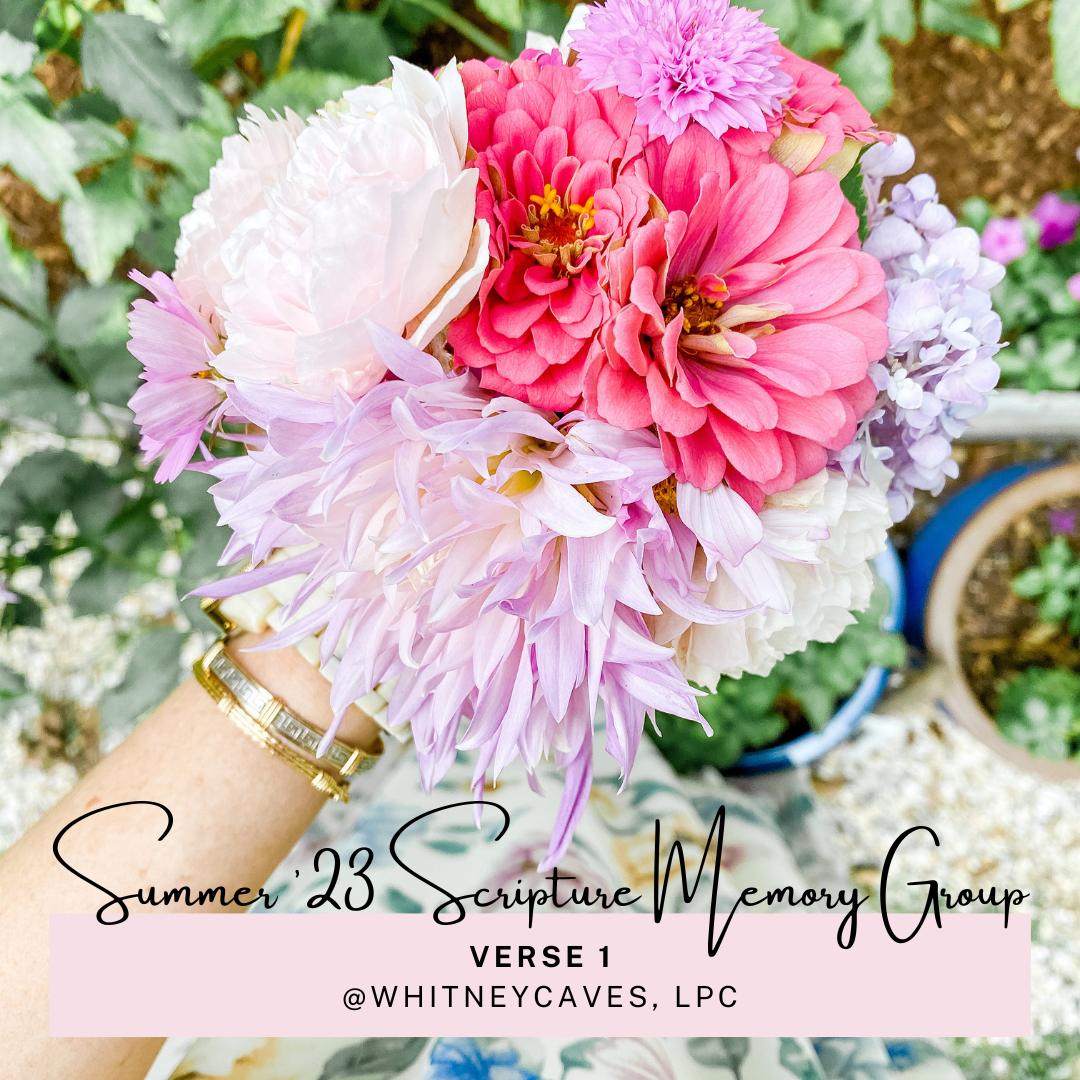 "Finally, brothers and sisters, whatever is true, whatever is noble, whatever is right, whatever is pure, whatever is lovely, whatever is admirable--if anything is excellent or praiseworthy--think about such things." Philippians 4:8 NIV
Happy June and welcome to week one of memorizing scripture! I hope your summer is off to a great start and that you're able to sneak in a little extra fun here and there:)
I chose Philippians 4:8 this week because it's a verse that's meant a lot to me. It's helped me change the way I think and I've seen it be an encouragement to so many of my clients. In the past, I was prone to struggling with repetitive, circling thoughts (ex.--thinking "what if" over and over again, worrying about the future, checking the same thing multiple times). I'm grateful to have found an incredible amount of freedom from this sort of thinking and this verse has been a big encouragement to me. 
When I find my thoughts heading in this direction, I try to remember this verse and ask myself "is this even true? Are you thinking about something that is a true scenario or does it exist only in your mind? Or are you attaching real emotions to something that is not real and may very well never be real"?
The New Living Translation says "fix your thoughts on what is true" and I like thinking about it in this way. So much about anxiety is future focused, but this kind of thinking helps me stay grounded in the present moment. It helps me enjoy the goodness around me and manage my thoughts when the harder days come. It frees up brain space so I can focus on the many things that are lovely, admirable, excellent, and praiseworthy about all the ways God has worked in my life. 
This verse isn't about toxic positivity or pretending hard things aren't real. This isn't a healthy or helpful line of thinking and the Bible doesn't ask us to do this. Rather, it's been a great model for my general mindset. 
***When I say I used to struggle with repetitive, circling thoughts--I tell you it was a STRUGGLE. It was a deeply difficult part of my life. About 13 years ago I spent many hours with a wonderful, licensed professional counselor who was a woman of faith herself. This time was the answer to so many desperate prayers and is a forever gift to me. Never hesitate to reach out for professional help and never, ever let it make you feel like your faith is lacking! 
I hope these words are an encouragement to you! Don't forget to comment with your own verse, name, location, and Bible translation you're using. Feel free to add a couple of sentences about why this verse has been meaningful to you, but don't feel like you have to do this. Most importantly, remember to choose a new verse to memorize this week. In seven weeks we'll know seven new pieces of truth that can never be taken away from us:)
I hope you have a wonderful week! 
Whitney