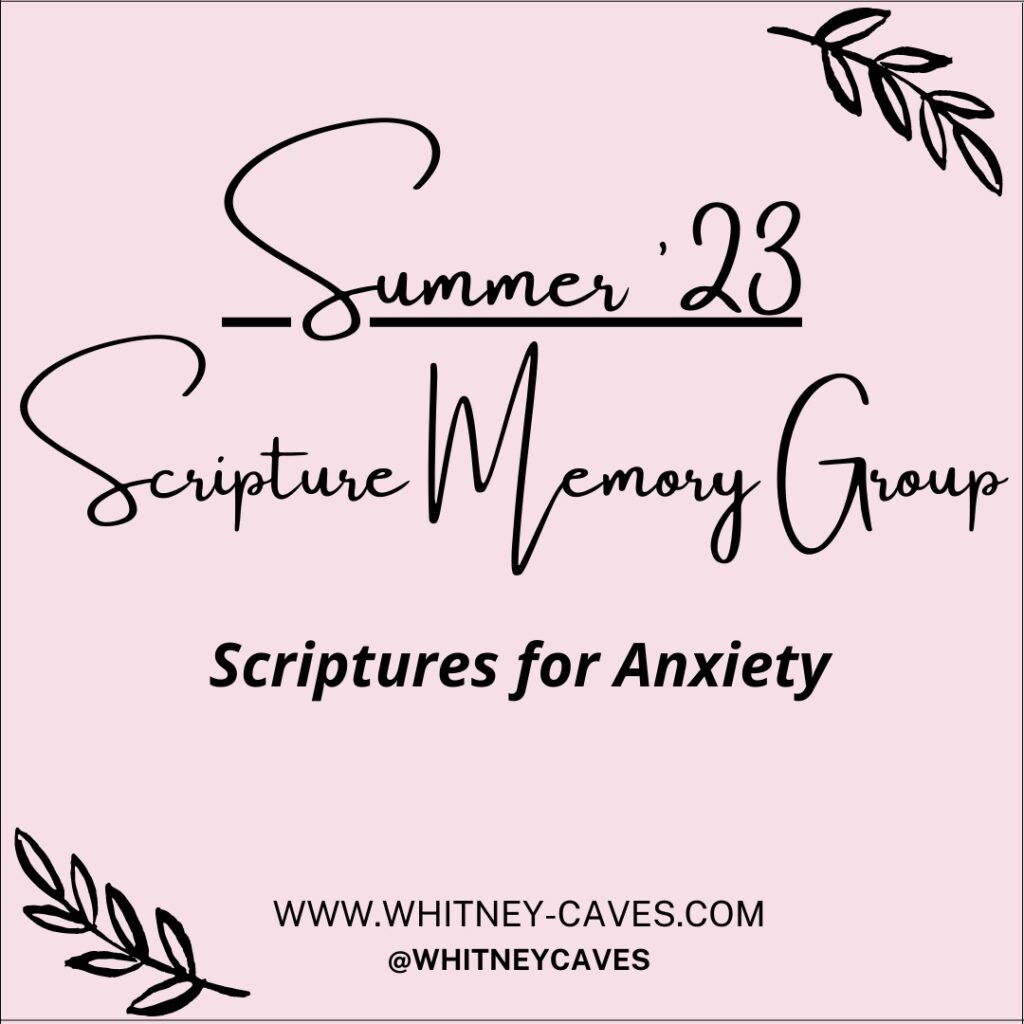 Several years ago, I participated in a scripture memory program and I've never looked at scripture the same way since. The verses I learned that year wrote themselves on my heart and I came to discover the word of God is indeed alive and active.
I'm no stranger to experiencing deep anxiety, but in my most difficult seasons God's word has been a continued source of strength, encouragement, and truth. I know many of you can relate to feelings of anxiety, worry, depression, stress, or inadequacy. I wanted to start a very simple online group where we can come together this summer and share the verses that have encouraged us most during these hard times.
To Join:
Subscribe to my blog (box on the right) and follow me on Instagram (if you have an account. it's fine if you don't!).

Every Monday morning June 5th-July 17th (7 weeks) I'll share a new blog about a verse that's been encouraging to me in seasons of anxiety. This is not a Bible study–just sharing verse that's been an encouragement to me and why. 
To Participate:
At the bottom of each post you'll find a place to leave a comment. Comment with your name, location, a verse that's been an encouragement to you, and the Bible translation you're using. Feel free to share a couple of sentences about why the verse is meaningful to you, but don't feel like you have to!
To Memorize:
Look through the comments and pick a verse that stands out to you or choose a new one on your own. I'll offer a few tips that I've found helpful when memorizing scripture before we get started and as we go. It's my thought that we'll each learn one verse a week, but feel free to go at your own pace. 
A Few Ideas for Memorizing:
Write each verse in a small notebook that you can easily carry with you or keep on your night stand. 

Keep copies of your verse in places you look often--your bathroom mirror, inside your kitchen cabinets, your dashboard.

Read the chapter containing your verse and look it up in a commentary for more context. 

Share verses weekly with a smaller group of friends. 
And that's it! It's my hope that in seven weeks we'll each know 7 new verses that will help us stay grounded in truth when hard times come. Please feel free to come just as you are. Whether you're already learning scripture, have wandered from your faith, or don't know what you believe but just need to focus on something positive, everyone is welcome. 
We'll get started tomorrow! The best way to memorize scripture is always with friends, so I'd love for you to invite some of your favorite ladies to join in with us. I'm very thankful you're here! 
***I am a Licensed Professional Counselor. I know on a personal and professional level that at times we may experience a level of anxiety, depression, stress, or a season of difficulty that we can't seem to shake. When that happens, WAY too many of us feel like our faith must be inadequate and that simply isn't the truth. God answers our prayers in these desperate times in many different ways and some of these ways may include wise counselors and doctors. God has answered many of my own prayers, showed me more about who He is, and strengthened my faith through several of these wise, kind, and faithful professionals. Know God's word, memorize it, and pray with all your heart. But don't hesitate to also reach out for professional help when needed:)
Whitney